DATE:
Fr. 10. + 11. July 2015
DOORS:
Fr. 10.07.2015 / 12:00
END:
So 12.07.2015 / 12:00
TICKETS:
Available after the end of February!
www.oeticket.com / www.cursedrecords.at / Bands / Box office
LOCATION:
Neugarten Almseehütte - Gerlitzen- 9543 Arriach / AUT - Carinthia - Austria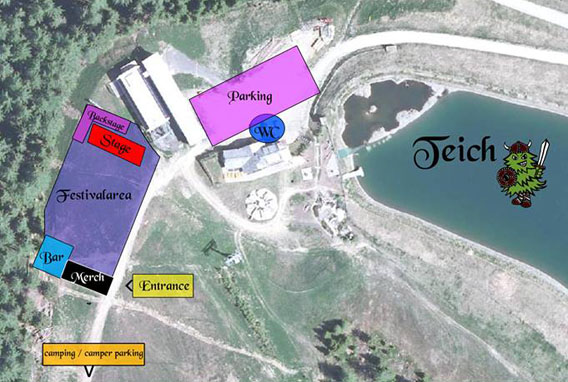 The Location can be found via Googlemaps and some navigation system with "Neugarten Almseehütte, 9543 Arriach".
The road will be signposted after reaching Arriach, because the driveway might be assessable.
You can calculate your Route here:


RUNNING ORDER: --> klick

CONTACT:
For booking or press contact please --> klick here.
PROMOTION:
The EiT Festival offers several opportunities to promote your band, business or event. If you are interested and want to inform yourself, contact us via eineinteich@cursedrecords.at
POLITICS:
Politic extremities of any kind will not be tolerated – no matter which side you are on. Politics have no place at our festival! We only offer a stage for musicians, not for any kind of political profiling. Behaviour, which might harm the festival will lead to exclusion from the whole area!
CAMPING:
Camping is include in the festival ticket. Camping and parking are separated. Open fire, fireworks, other pyrotechnics, drugs and weapons of any kind are strictly forbidden.
YOUTH PROTECTION:
Our festival area might seem like the beginning and end of the world, but still the Austrian laws are intact. In conclusion: Beer and wine – 16 years plus; spirits / liquor – 18 years plus.
TRADE:
Commercial trade of any kind without our written consent is forbidden and will lead to exclusion from the festival.
WC:
There will be enough Boxi-toilets at the camping sight. The sanitary installations of the alp cabin can also be used.
TRASH:
We charge 5€ as trash deposit, which will refunded in the end of the festival. Furthermore, there will be trash cans at the whole area. Please help us to keep the alp clean in order to keep the festival alive. Please think of the people who have to clean the mess up and also think of the wildlife. Protect nature!!
ATM:
The last ATM is located in Arriach – don't forget to bring enough cash for yourself.
WEATHER:
We are an Open Air festival so we depend totally on the weather and we can't influence it. Remember to take along enough warm clothes and good sleeping bags – even in summer the nights can be very fresh at 1600 metres height!
© Eine in Teich 2014 | Contact